What is Seeking Alpha PRO?
---
What Is Seeking Alpha PRO?
Seeking Alpha PRO is our premier subscription offering, providing members with the best professional investment analysis on Seeking Alpha. We alert subscribers to the best ideas on Seeking Alpha, provide tools to efficiently find research from our archive, and customize our subscriber's experience so it best suits each member's individual needs.

PRO provides:

Idea generation: Instant, exclusive access and alerts to the best research and analysis Seeking Alpha publishes every day. Our PRO Editors team applies a refined filter and intensive editorial process to ensure subscribers receive only the most actionable and deeply researched investment ideas.
Tools to navigate Seeking Alpha: PRO exclusive tools help members rapidly access the research that best fits their particular investment strategies.
Best of Seeking Alpha: PRO Editors select the best content on Seeking Alpha and organize it for our subscribers depending on their investment interest. 
Idea Generation
PRO Summaries: Every market day, PRO publishes a summaries of the best investment ideas on Seeking Alpha. These amount to the best 1% of Seeking Alpha content on any given day sent directly into your inbox.
Top Ideas: Published exclusively for PRO subscribers weekly, Top Ideas represent the best-researched and highest-conviction long and short ideas that Seeking Alpha's contributors have to offer.
Exclusive content: PRO subscribers receive exclusive investment ideas across our covered investment styles. 
For example, when activist hedge fund Kerrisdale Capital Management published its compelling Short thesis about iRhythm Technologies on Seeking Alpha, PRO subscribers received an instant alert to this deeply researched short idea.
(Note: Top Idea articles are exclusive to PRO subscribers for an entire week.)
Exclusive PRO Tools
Idea Filter: Only available to PRO subscribers, the Idea Filter screens Seeking Alpha's archive for key variables: 
Long or short ideas
Author quality
Market cap
Sector
Publishing Date
Country
Investment style, such as growth, value, income
Investment opportunities, such as take over targets, transformative acquisitions, or accounting concerns

Short Ideas Archive: Subscribers have exclusive access to Seeking Alpha's up to date listing of all short ideas published on the site.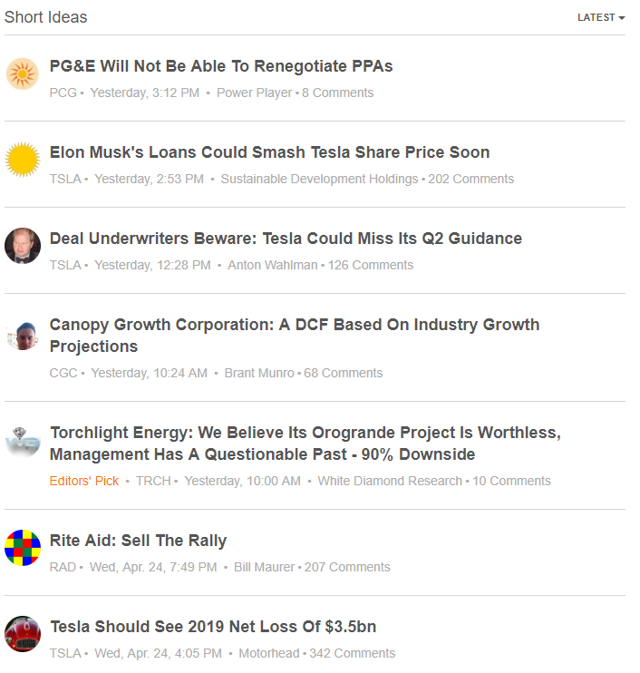 Best of Seeking Alpha
Custom Author Alerts: We help members find the best, most relevant authors to follow. PRO provides daily updates from high-quality authors who cater to your particular investment strategy. To activate this service, email pro-editors@seekingalpha.com. To manage alerts settings, click here.
In addition, PRO offers exclusive newsletters and style based editorial selection. PRO subscribers receive exclusive articles and alerts covering key topic areas:
PRO Income features actionable dividend and income ideas by top authors, along with editorial commentary. Ideas span the entire capital structure, from equity to bonds to preferred shares.
PRO Short sends immediately actionable stock ideas driven by upcoming negative catalysts.
PRO Tech offers cutting edge insights into the most important up and coming firms, including when these firms may be considered attractive as investments. The approach is inspired by Philip Fisher's rigorous approach to growth investment.
PRO Small and Micro features the best and most interesting small and micro cap analysis which Seeking Alpha has to offer.
Additional Offerings
The PRO team is committed to providing the best possible experience for all subscribers. If you have questions or feedback about how we can make the PRO experience better, please contact us via direct message or at pro-editors@seekingalpha.com.
To learn more or subscribe to PRO please click here.